Wellbeing in Fife is an exciting partnership delivered in Dunfermline and South West Fife with Our Minds Matter.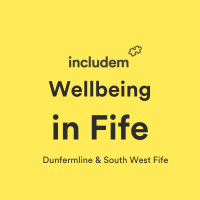 Wellbeing in Fife
Our Wellbeing in Fife service offers a range of support to children, young people and their families focused on groups and 1:1 support to promote positive mental health and wellbeing and reduce distress. The team will come to you and listen to your goals and aspirations and offer input to achieve these. We run a number of groups for children and young people aged 5 – 26 years and for parents and carers. We will spend time with you to build your confidence & resilience and help to strengthen your skills.
This service is available 7 days a week during the hours of 8am-10pm. Our enquiries line allows you to leave a voicemail with your basic details and a co-ordinator will contact you to complete the enquire.
0800 037 1069