Keeping Connected is an exciting new serviced delivered by includem in partnership with Our Minds Matter.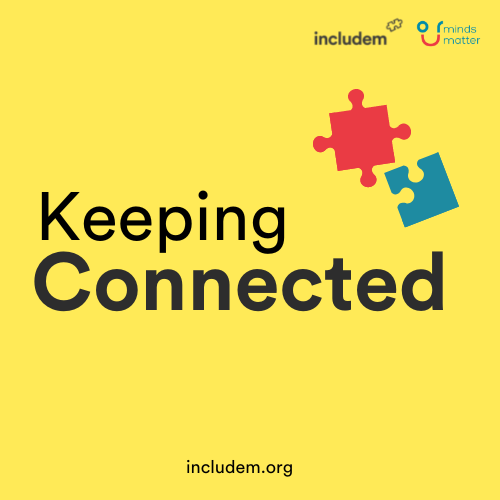 Keeping Connected
Keeping connected is here for you and is focused on supporting young people across Fife. If you are age 10 – 26 you can give us a call to talk to someone in the team. We are here to support you with short term 1:1 mentoring which means we will be here, alongside you, focusing on the things that matter to you. 
We can help to develop your self-confidence and build your resilience which will promote positive mental health and wellbeing and help to reduce distress. We will spent time with you, understand what is important to you and help you identify other community supports such as youth clubs and groups. 
You may feel you are experiencing some of these distress factors. If you are we can help.  
Anxiety 

 

Attachment 

 

Bereavement or loss

 

Depression (Mild to Moderate) 

 

Emotional & behavioural difficulties associated with neurodevelopmental disorders 

 

Gender identity 

 

Repetitive/perseverative behaviours 

 

Self-harm 

 

Self- injury 

 

Substance use 

 

Trauma

 
 If you feel it would help to spend time 1:1 with a mentor you can drop us an email at:
Once we receive your email,  we can then work out the best way to keep in touch such as video calls and WhatsApp alongside our face to face visits. It is important that we hear your voice and are working together which may be on one or two visits a week or a fortnight. We will meet with you where you are comfortable and when you need to see us between 8am and 10pm any day of the week. 
Download our Information Leaflet for Young People and Families (coming soon)
Download our Information Leaflet for Prospective Partners (coming soon)
Follow us on Instragram @includem_keepingconnected
---